Moving Valuables and Special Items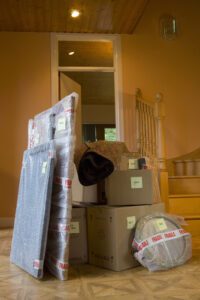 Are you in need of moving valuables? Beyond whatever you can pack and carry on your own, remember that the movers are experts in their field. What you think is a good packing, it might not be, even if you think some extra paper in the bottom of a box might help. Remember that if you pack fragile items yourself, you and only you are responsible if the items break during the move. The majority of movers won't insure items they haven't packed, so it's better to let them do their job and let them pack. For example, small pictures and paintings should be wrapped and placed on edge and put in heavy cardboard containers. Also, large paintings may require a custom built case made out of wood. Also, large valuable antiques should be shipped in a custom built crate.
When the moving estimator comes to your home to quote you a moving job, point out the pieces that need special care. Ask the moving estimator to price separately the items that need crating. If you want that service, let the movers know well in advance. Also, ask what kind of insurance they can provide to cover art and valuables. If your items are rare or extremely valuable, contact a company that also specializes in moving art and antiques to move them.
C&C Moving Moving Valuables Recommendations
Moving valuables such as clocks, antique furniture or delicate artwork, glass-top tables, large mirrors, or other heirloom items, you can gain peace of mind by having a professional mover crate those for you. Crating experts use wooden crates and lots of padding to ensure the fragile items can be transported nationwide or even shipped overseas. They are trained to handle items containing small pieces and later replace them in your new house. For example, antique clocks with removable components have to be crated to transport them safely and deliver them successfully. If you are using professional movers for loading, they will often crate special items for an extra charge and fees often include insurance.
Are you ready to move your valuables with us?
C&C Moving and Shipping: Quality and affordability mark our moving services. We will offer a personalized moving service to our customers as well as packing and unpacking options. We do local moving, long distance moving, piano movers specialist, antique moving, moving storage services and anything related to the moving industry. Give us a call 1-800-330-8985 for your Free moving estimate or click moving quote.
Follow us on Facebook.